Hey guys, I'm pretty new here. I've only made a few posts but I hope I can be of some help to people and vice versa. I'm currently working on a custom build of the Shapeoko 2. I want to extend the size considerably as well as add in different electronics and more powerful stepper motors (I'm thinking four 166oz Nema 23 motors) and spindle. I still have a ways to go, I'm not even done with the mechanical aspect of the machine, but here's what I have so far.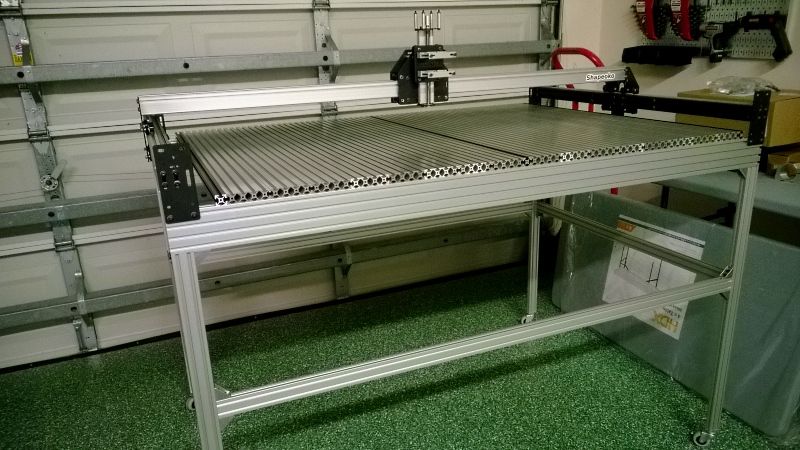 My custom Shaepoko 2 on an all aluminum stand with caster wheels.
As you can see the machine will be able to work with large sized materials. I opted for a t-slot bed as opposed to MDF. I don't mind working with clamps and I have plenty of large sized MDF boards that can clamped down and used as sacrificial boards. Using proximity sensors I plan on artificially setting the working travel size to about 48.5" x 24.5", but that's not set in stone.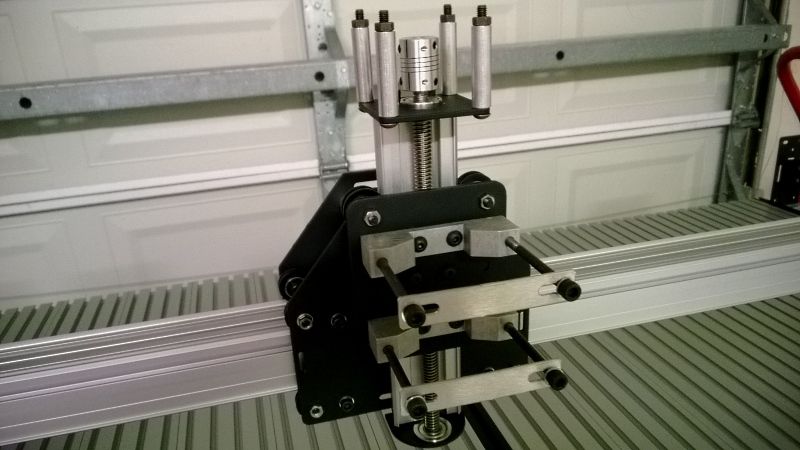 You can see I upgraded the Z-axis to use a Nema 23 stepper motor as well as replaced the M8 threaded rod with the acme screw upgrade.
Each Y-axis maker slide is re-enforced with a 40x20mm extrusion. I drilled holes through them and using button head cap screws and post-assembly extrusion nuts I anchored them to the maker slides as well as to the end plates.
For even more added strength to the Y-axis I will be using the mid-span support upgrade as well.
I still have a ways to go and I will be looking for ways to strengthen the machine further as well as keeping performance high, but for now that's all I have to show. Well I have to go and join the family, it's Christmas Eve after all. I wish all of you a Merry Christmas!!!