The time has finally come to call this project complete for now... A while ago I set out with the intentions to upgrade my Shapeoko 2. After thinking on what to do for days, I decided the best way to go about doing this was to build a new machine all together. I knew I wanted it to be bigger, better, stronger. I think I've accomplished just that. Below is pictures, specs, etc of my project over the last couple months. I'd like to give a big thanks to Louis V here on the forums, without his time and help I wouldn't be up and running. He cut a few custom plates for my spindle setup, and Y axis plates which turned out awesome. I'd also like to thank everyone here on the forum, I spent hours reading and taking notes to figure out how I wanted to plan out this new machine.
I used all Misumi extrusion for this project. I wanted to build the machine and it's own table together instead of going the desktop route. I ordered 40mmX40mm L shaped extrusions for the legs. 20X40mm extrusions for the leg supports and cross members, and used two 60X20mm extrusions to mount the machine to the legs and tie it all together. I ended up with a 1600mm X 1000mm foot print for the machine to be built on.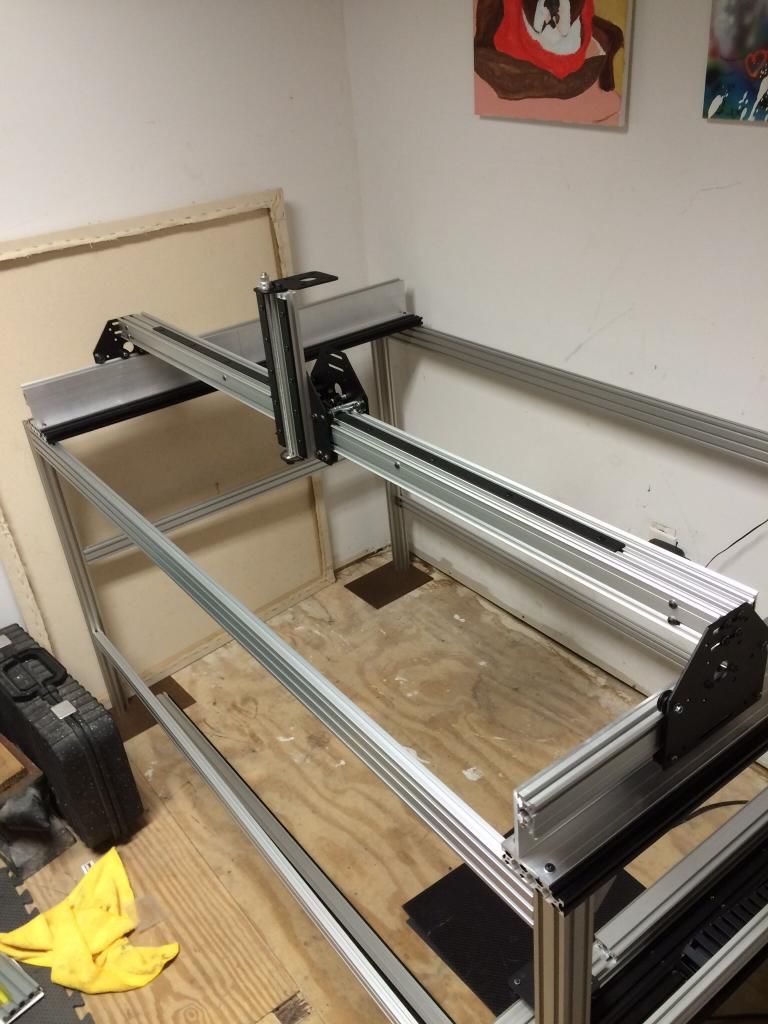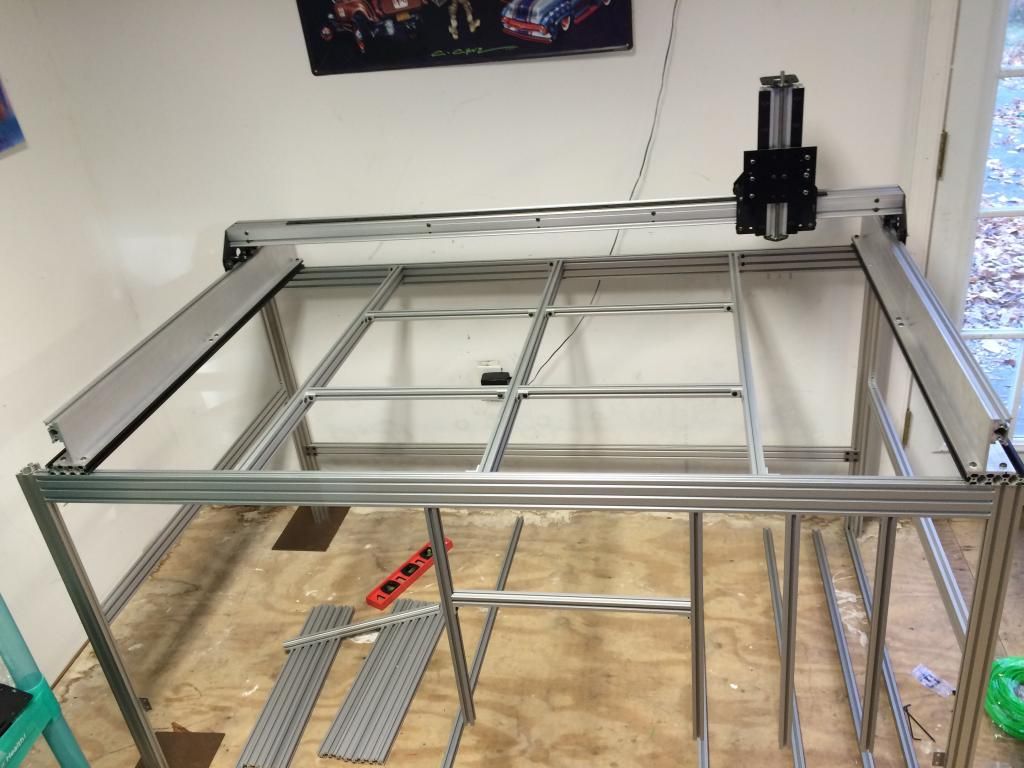 After getting the table together I had originally ordered Shapeoko 2 end plates, Shapeoko 2 Axis plates and was planning to use those. I wanted to be able to add some clearance under the gantry for bigger projects down the road, and I wanted something alittle stronger than the Stock Shapeoko 2 plates. So I scraped that Idea, and paid to have Louis V make some custom plates for my. I kept the shapeoko 2 plates for the X axis for the time being but plan to change those soon as well.
I went with a 8 wheel setup to add a little strength and help manage the weight of my spindle setup I went with, more on that later.
Currently my setup is using 1500mm Makerslide rail with a 20X40mm extrusion sandwiched between them for 40mmX60mm extrusion. Also added where steel flat bar to the top and bottom of the X axis to help support the spindle. This setup was bought from Louis V from his original Shapeoko 2 custom build.
I plan on upgrading this to two 40X60mm sandwiched extrusion and utilizing open-rail for what I think would be a stronger overall design. This addition was provisioned into the design of the X axis plates so it'll be a easy job to tackle when the upgrade is warranted down the road.
My Z-axis setup was different from the stock shapeoko 2 as well. I originally was just going to run the full stock setup with the Acme screw upgrade, and nema 23 motor plate upgrades. After playing around with some extra extrusions I discovered that a 80X20mm extrusion bolts right up to most of the mounting holes on the Stock shapeoko 2 plate. So I went that route for a wider frame than the 20X40mm makerslide that the shapeoko 2 uses. I bolted up some open rail to the 80mm extrusion and mounted it to the plate. I had a custom Acme scew made, 335mm from Improbable construction for my Z-Axis, I also purchased the Nema 23 belt drive system. With the 300mm length extrusion I was using I decided to mount the nema 23 motor upside down to keep the total length of the design now. It seems to be working great so far.
I decided on a UgraCNC GMT Spindle, going that route I think although alittle pricey was a good idea. I'm really liking the quality of the Spindle and how well it's been working so far. I went with a 800watt 220V Square spindle. Currently its being ran with a Chinese VFD. I have plans to move over to a Delta VFD once it comes in and I hook it up, I may hold off for a while because the Chinese one has been working great.
Going this route I need to do a different Spindle plate. Again Louis V helped me out, I wasn't kidding when I said this guy helped me every step of the way lol. Below are pictures of what I settled on and Spindle mounted to the Z axis. I went with an 8 wheel setup to help stiffen the overall setup with the added length I had.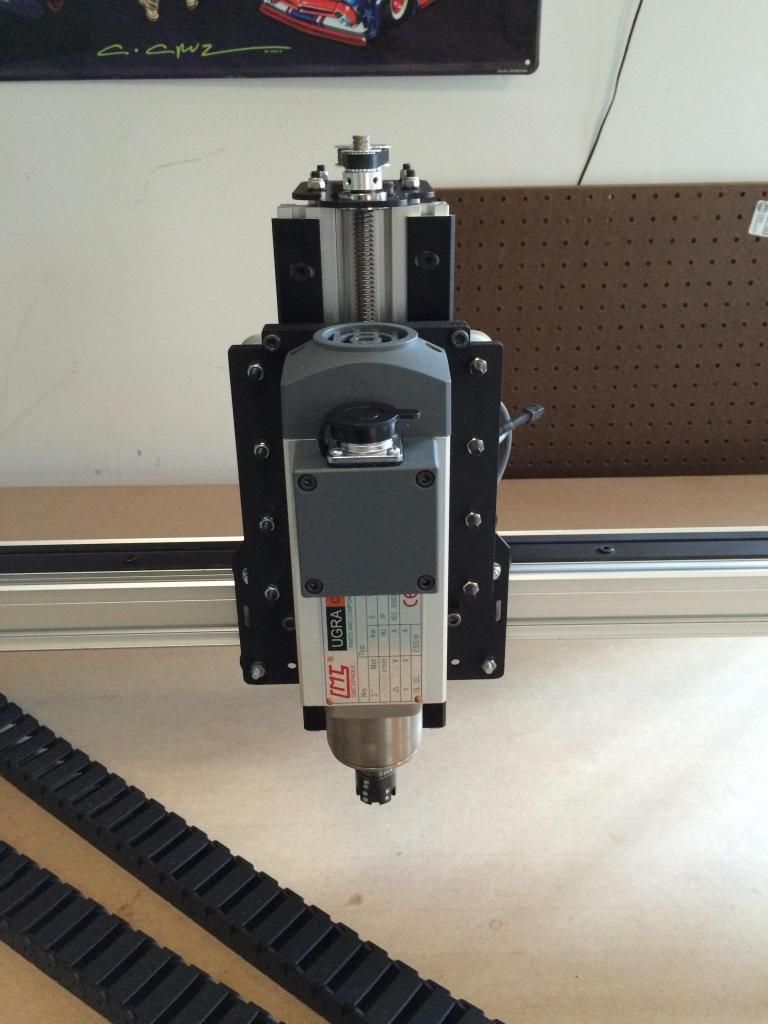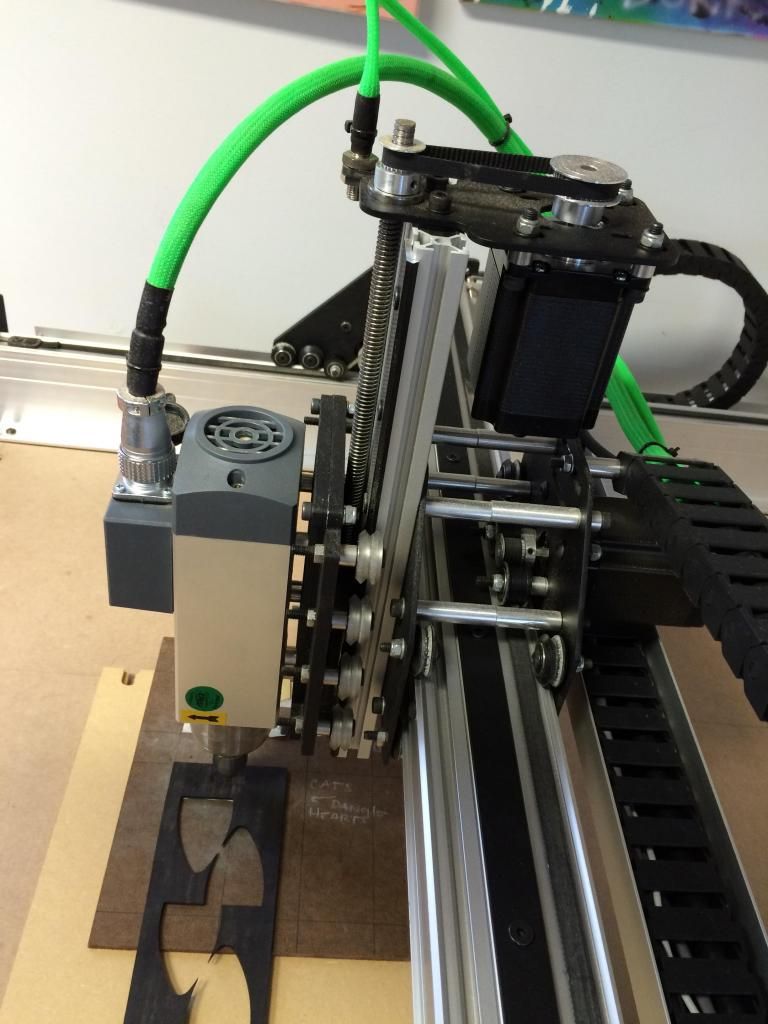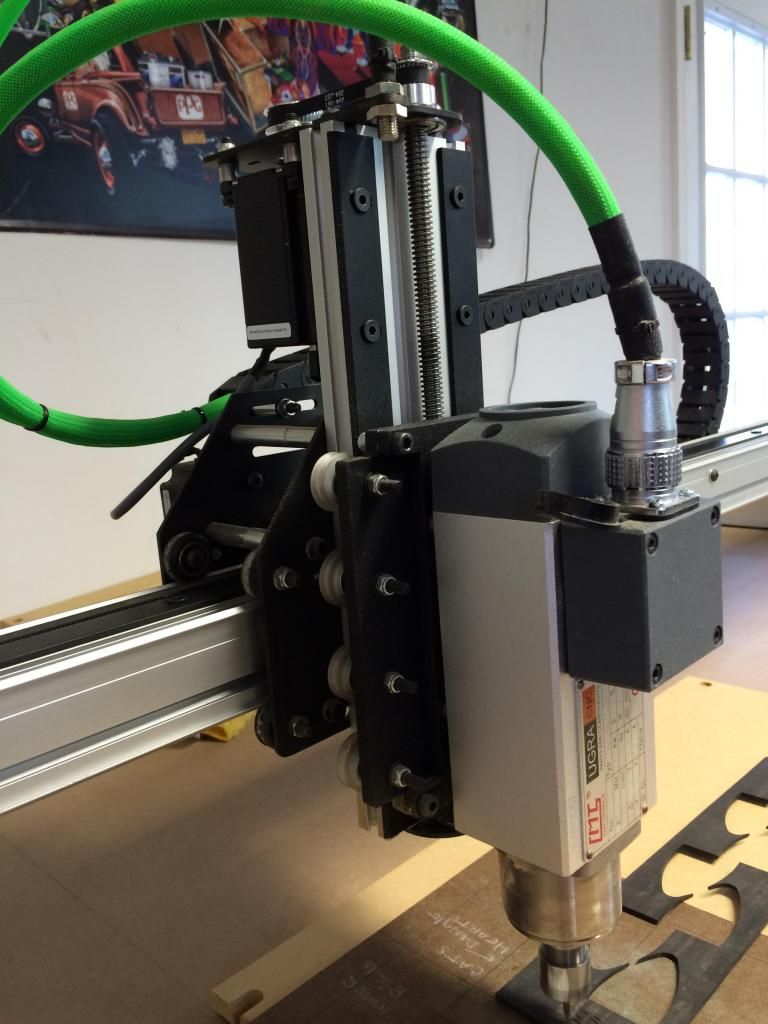 I made my own End Plates out of a high strength Carbon fiber I had laying around from previous projects. It's light weight, extremely stiff, and is doing what it's supposed to do. Hold everything together.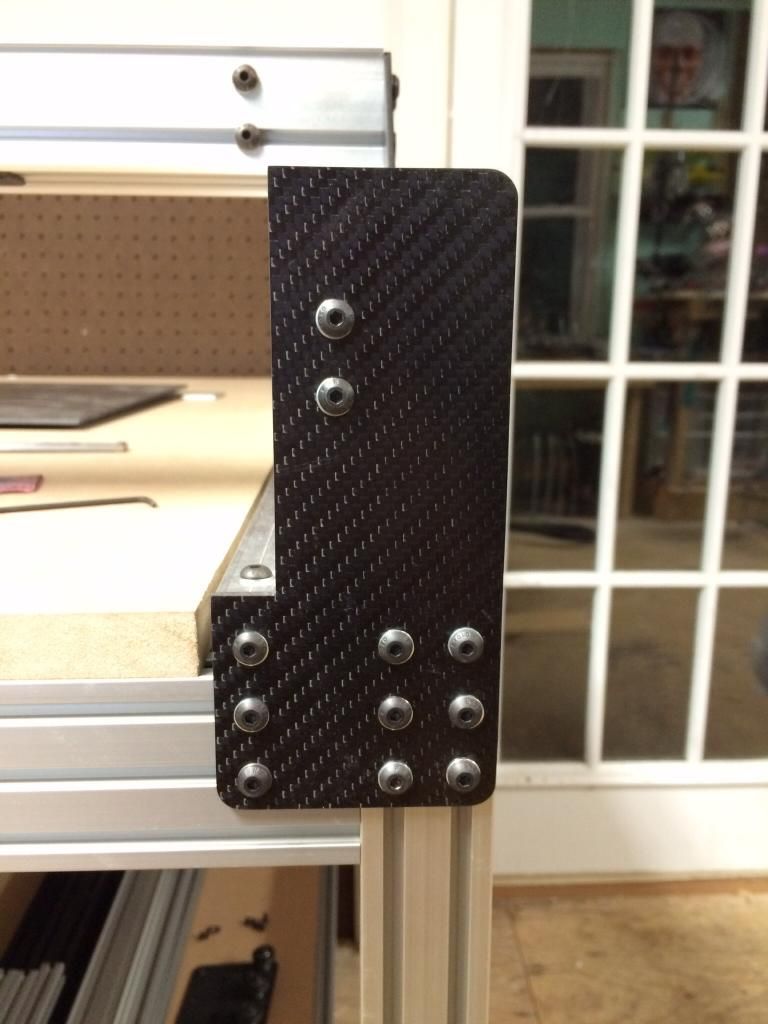 I was looking around at random things on Ebay and stumbled upon some railing supports, Maker Foot. Having read through the forums I've found that these are made by a company that not may like. I didn't have any problems ordering these, and they ended up being machined really well. So I figured I'd give them a try. I have them supporting my Y rails the whole length 1000mm. I squared the table, and the rails and believe it or not everything was good even with using these the whole length and not cutting them into sections to mount. I mounted these up on 80mmX20mm extrusion, then mounted them to my table and squared everything.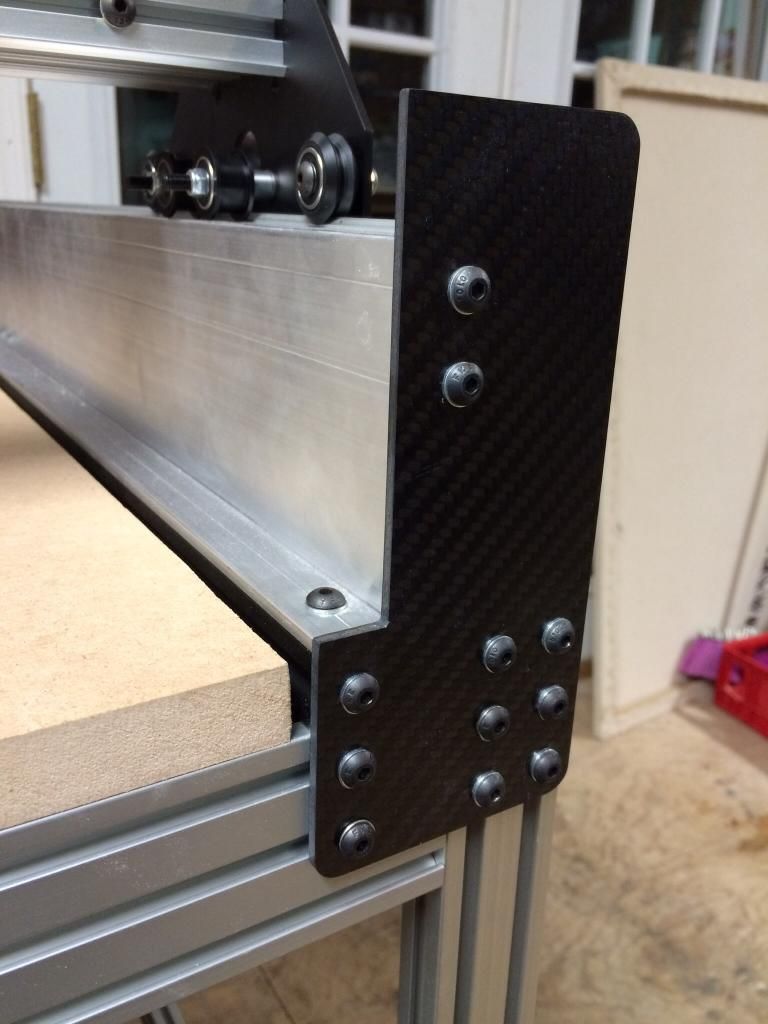 I'm using 9mm gt2 Belts to run everything on, and they've been working great so far!
I think that covers all the mechanical aspects of the machine, I may have left some details out I'll add if I think I've forgotten something!
For Electronics I settled on a Gecko 540 system made by Soigeneris the STDR-4C, 276oz nema 23 motors, proximity sensors.
This setup is Amazing, it is extremely smooth and have had no problems with it what so ever, I'm running it with there Ethernet smooth stepper setup and like I said really enjoy it.
I've got it configured in Mach 3 to control my VFD on/off, as well as speed control, this was done through two relays, one added and one that was included on the STDR-4C.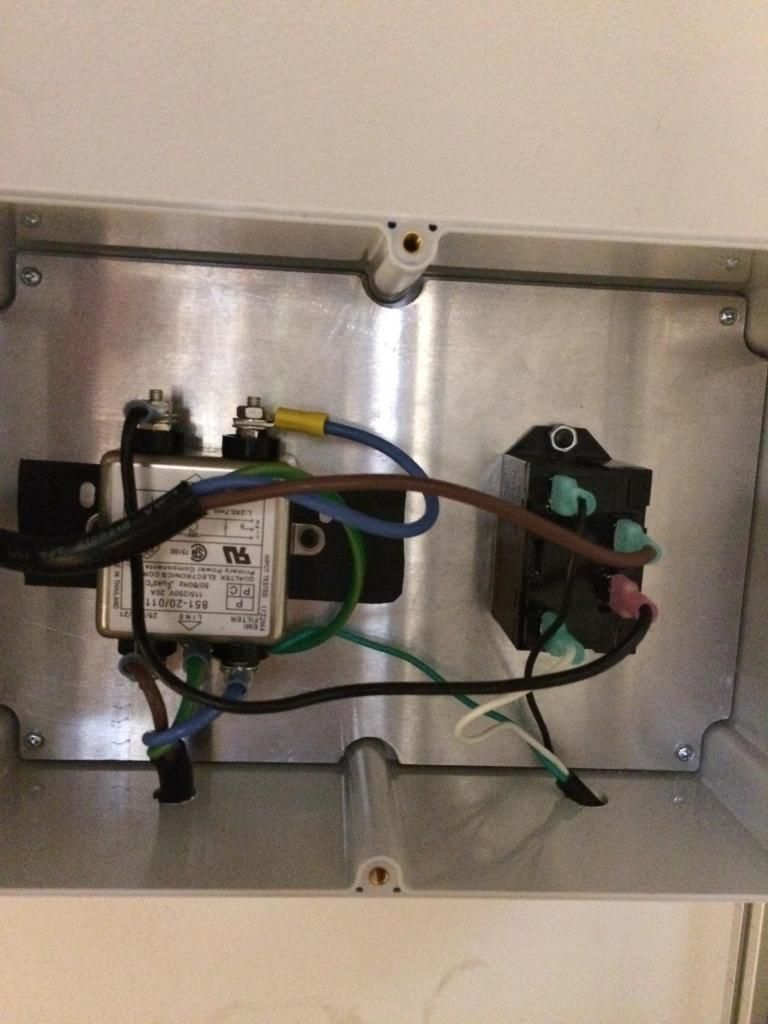 I added a could of shelves to my table, an MDF table top for the time being and plan on adding some T-track to help hold down projects. Below is what the machine looks like today. If you have any further question on my build, or any comments or anything you think I've missed in building my machine please share. I will have some videos up soon to show everything in action.