The new bed has solved my alignment issues. It's all Mitsumi rail.
If I had to do it again, I'd probably get 80mm tall for the machine outers, but I already had them.
Here's the construction I used: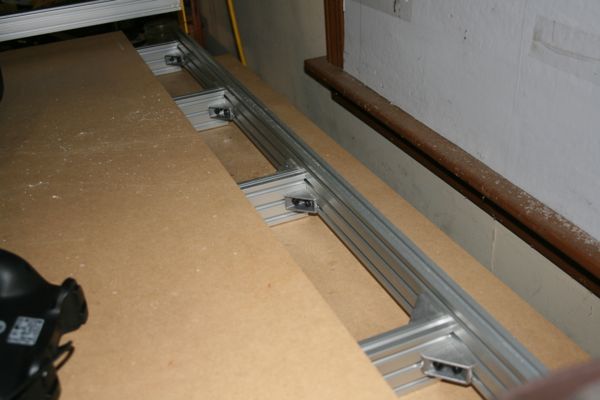 And the entire machine - sorry I didn't clean up for a glamor shot.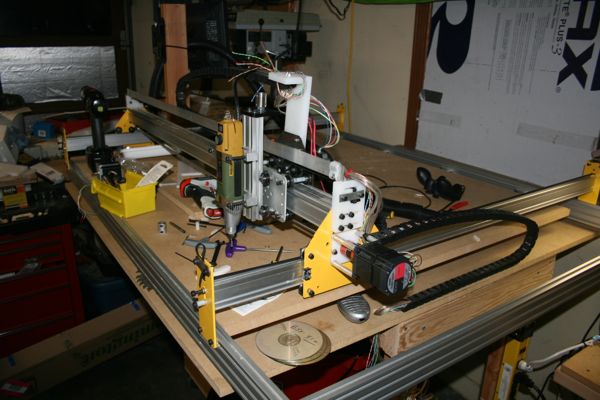 Note that my Z axis is sans Motor. I fired up a pair of steppers today. I swapped on some spare motors and everything is good. My power supply was too much for the little nema 17 and one of my Nema 23s! The new motors run nice and cool.
The 17 actually melted part of my shop vac hose, and after cooking it lost a bunch of torque. After hacking around a bid (put the flex coupler in my lathe and drilled it for a 1/4 shaft) I found that the Z axis bearing decided that it's a good time to pop out!
My solution was to order Improbables Nema23 kit. I've stolen the motors from my other mill, so I can't make replacement parts without re-assembly. The plan is to buy more motors and rework my other mill sometime.
I also got some of his 660 mounts to have them on hand later on. I may sit down and figure out an aluminum spacer kit for the double makerslide build. I don't like the plastic spacers, but they work for the moment.
Meanwhile, I should really wire up my limit switches and I'm thinking of adding a small panel on the edge of the table that sticks out - putting an emergency stop switch there and probably a jog button panel. I usually use a logitech game pad, but it gets ripped out the PC and flung across the room every so often when things are being moved around the shop.