I am having problems here with the sunhokey prusa i3. Seems that thermistor sensors either send an open signal to the board or, apparently in a random behaviour, they send more suitable datas to the board but with awful voltage spikes - thinking about interferences from a defective mks v1.1 ramps board here. Both these conditions stop me from getting my first print
I wrote sunhokey asking for advice/replacement, but I don't know if its better to try to fight for a trick in the configuration file or if I am missing something.
I checked the sensors with a ohmeter and they are ok. Tried some PID autotuning on them but with no luck. Now I recall that the only moment in wich I can obesrve the interferences is during PID autotuning (trough repetier temp tables) , rest of the time the sensors look dead. I have identified from the test the sensors, which are 100k.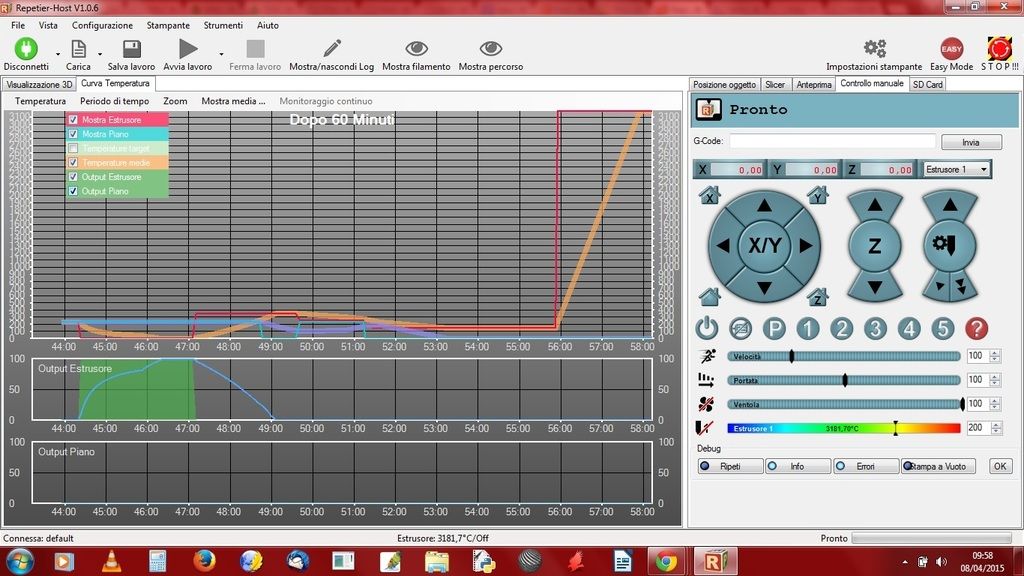 this is a screenshot from the last PID autotuning try, in which i could not even get "normal" sensing with spikes, but only crazy readings.
Can someone interpret the relationship between the extrusor graph (the one with the green band) and the general graph? They seem not coherent to me
I'll let you know about sunhokey support